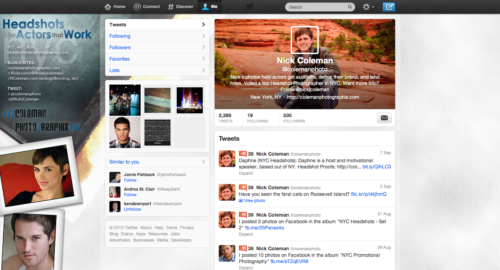 Your Twitter page can look snappy and snazzy!
With the newly launched Header Image feature, you now have the ability to further customize your Twitter profile–giving you a LOT of possibilities.
Checking out the profile images from @KatieLinendoll and @RyanSeacrest gave me the idea to create my own Custom Twitter Header Image–and to help you make your own with a Custom Twitter Header Image Photoshop Template.
Here are Ryan and Katie's: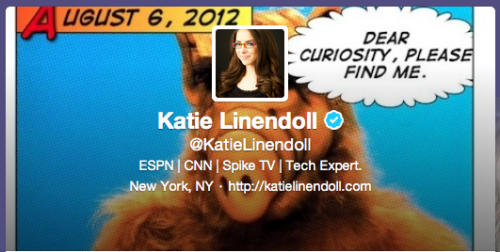 How To Create Your Custom Twitter Header Image
Creating your own Custom Twitter Header Image is remarkably simple–especially with the Photoshop Template you can download right here.
Preparation
Pick out a great header image–it needs to be landscape orientation, no more than 1200px on the long side.
Later, once your image is uploaded, Twitter will add a bit of darkening to your image (so keep that in mind). Also, the text that Twitter overlays is going to be white. Which means darker, bolder colors, and images with very little pattern work best.
Download this Custom Twitter Header Image (Photoshop Template).
Unzip the file, and open in Photoshop.
Drag your own image into the Photoshop Template.
Resize and adjust the placement of your image so that the area you'd like as your profile image falls within the White Square.

Turn off the "Face/Profile Area" layer (and the sample "Profile Picture" layer).
Save your Custom Twitter Header Image as a JPG.
Ctrl+Click (or Command+Click for Mac) the Thumbnail for the "Face/Profile Area" layer.

Select your personal header image layer from the Layer Palette, and copy the area you'll be using for your Profile Image.
Create a new Photoshop Document (Ctrl+N or Command+N on Mac). The dimensions for your Profile Image are created automatically–DON'T CHANGE THEM!
Paste your copied content into the new Photoshop Document, and save as a JPG.

You should now have two images: 1 Twitter Header Image (the large landscape image), and 1 Twitter Profile Image (the small squarish image).
Updating Your Twitter Design
Done!
Next step, send me a message @ColemanPhoto or on Facebook so I can see how it turned out!
If you found this guide helpful, consider sharing with friends 🙂
View My Portfolio
Free Headshots Consultation