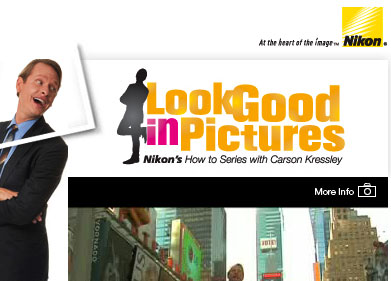 You've done your research, figured out your type, hired the best head shot photographer in New York City, and now it's time for your headshot session… the session date is looming.
Now how do you look your best for your headshot?
There are a lot of answers to that question (which I'll cover in future posts), but for some quick tips, check out this great website from Nikon and Carson Kressley about Looking Good in Pictures.
Highlights include:
The photographer in the clip, Steve Simon, gives several key elements for a good headshot:
Energy in the eyes
Good rapport with the photographer
Know what you want the shot to accomplish… and make sure it looks like you
Have (and express) confidence
Shoot digitally, so you don't have to worry about "wasting" film on shots that don't work
Discuss your shoot with the photographer as it progresses
I'll be writing a few posts over the next few days covering each of these items, since I think they are incredibly important for a professional headshot.
Carson goes on to give his own recommendation: to show your range. This is a bit of a trap for acting headshots. Showing range isn't the same in a head shot as it is in a film clip or demo reel. There's a temptation to dress up, or behave like a "character" in your headshots, which can actually lead to headshots that are either over-the-top, "fake", or just plain not you. The best headshots show range by hinting at a character type.
Before every session, I make time to discuss character type and the range an actor or actress wants to show in his/her headshots, so that we can make that part of the session effortless.
Look Good in Pictures goes further than just advice on actor headshots… and it's actually pretty on the mark for event photos and other "real life" picture situations.
Check out the advice, and then schedule your free interview to discuss making your next headshot the best it can be!
View My Portfolio
Free Headshots Consultation