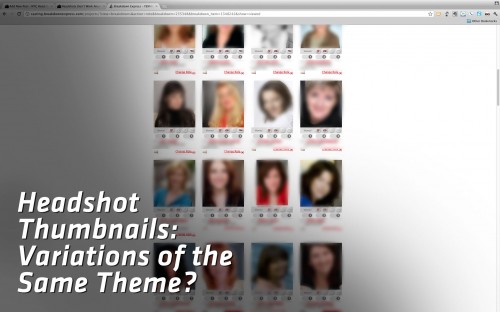 Have you ever seen the back-end of Actors Access, Casting Networks, or another online casting system?
From the point of view of a Casting Director, there are pages and pages of thumbnail images—headshots, cropped into little squares about 2 inches in diameter, all fighting for your attention.
After a while, they all kind of blur together.
So for a headshot to work—to draw attention, to stand out—something has to be dramatically different.
Over the course of the past year, I've been experimenting with a different type of photo for using online.
I still think traditional headshots are necessary, and a printed 8×10 is what you'll need to carry into the audition room, but when it comes to creating an online presence, and a portfolio of images for online casting, something different is needed.
That's why I've created Actor Portraits.
These images are bold.
The photos make a statement, and they cast you immediately.
These images don't replace traditional headshots—they supplement them.
You use an Actor Portrait as your background on About.me, or as your header image for a Facebook Page, or for your website.
These images sit in your online casting image bank, waiting for you to submit them for just the right projects.
The one's you are perfect for—and the image sells it.
Have a look through the gallery, and get excited about creating something new. Something different. Something that gets attention.
View My Portfolio
Free Headshots Consultation