Plan, Shoot for Success
A great headshot used to be enough to get you in the door.
Not anymore.
Now, every actor needs multiple great headshots.
Submitting for an Office style sitcom? You need that shot.
Submitting for a blue-collar dramatic role? You need that shot.
How do you get the headshots you really need? By planning your session.
With a Full Session, you'll meet with Nick in advance, bringing your clothing choices with you. You'll discuss the character types and roles individual to you, and plan exactly what you need to do with your session to capture the looks you need. By beginning the headshot session in advance of your shoot, you're fully invested in the look and feel of your headshots.
On the day of your session, you'll review each look on a large-screen monitor–while you're shooting, giving you the opportunity to approve every aspect of your headshots.
No more guessing at whether your shoot is accomplishing your needs, no more hoping you got good shots.
You'll leave the session knowing you captured the headshots you need to move your career forward.
Proof, Share, Succeed
At the end of your session, you will receive session proofing tools for picking your shots: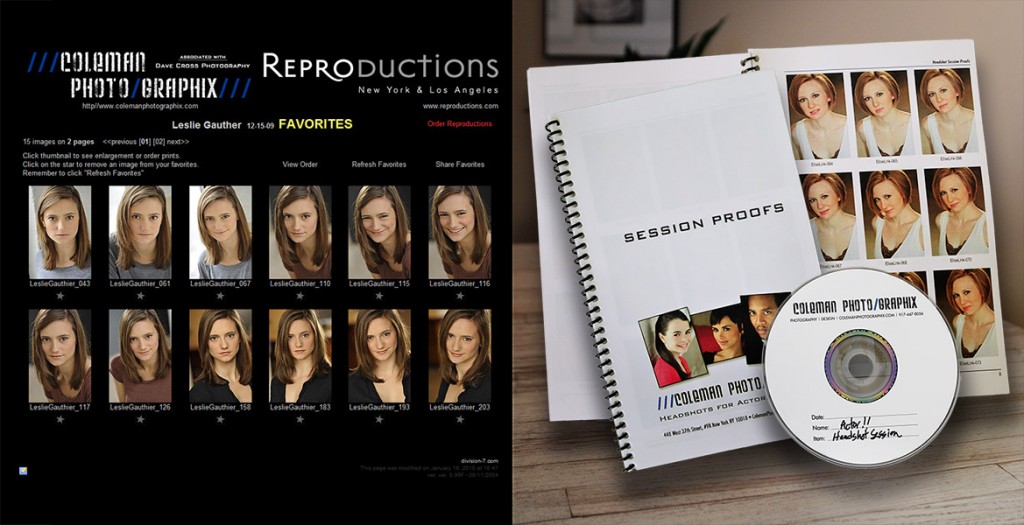 Proof CD
Contains low-resolution versions of every image you choose to keep. Coleman PhotoGraphix keeps an archive of your shoot for four years–during that time, you may order any image in a Hi-Resolution, retouched version.
Online Proof Site
Online, sharable Proof Website. This site will help you share your session with friends, family, teachers and instructors, agents, and anyone else whose feedback can help in picking your final shots.
Click for Online Proofing Example
Session Booklet (Available for $35)
Printed Session Booklet containing thumbnail images of your entire shoot. Plastic covered, spiral bound, and soft enough to carry in your backpack or purse, the Session Booklet is a great tool for impromptu sharing of images with agents, teachers, fellow actors, and anyone else who asks "What other shots do you have?"
Using Online Headshot Proofing
Need a little help mastering Online Headshot Proofing?
Here's a helpful video to get you started: